Fatcow -Shared Web Hosting
Fatcow -Shared Web Hosting
$3.15
Fatcow's a good webhosting company.
I've actually been with them for over 3 years and many of my websites are hosted with them.  I've only had one problem with them and that was a minor problem due to some problem on my end and they helped me through it very quickly.  The trick with these guys is to call technical support.  Ticket system is a little slower than on my other webhosting companies.
Overall I would give these guys an 7-1/2 out of 10 – I deduct points because sometimes; short lags when traffic is high – but not to bad for 3 bucks a month.
When you are trying to decide what webhost to choose and you want to pull your hair out of your head because there are so many choices as to what webhost is the best! try to calm down and choose the first one that you had that good hunch about.  and that is how I found fatcow.
We have a few websites running flawlessly with them.
mulletrides.com
servervsserver.com
whatwebhost.com
Shared Web Hosting
Born in 1998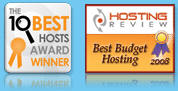 We've gone green! FatCow is now powered by 100% wind energy. Learn more »







Hosting FactsServing Size: One Fat AccountServing Size Per Account: Unlimited Domains
Disk Space

UNLIMITED

Bandwidth

UNLIMITED

POP Mailboxes
UNLIMITED
MySQL Databases
UNLIMITED
Domains Hosted
UNLIMITED
Domain Name
FREE
Website Builder
FREE
Shopping Cart
FREE
Script Barn
FREE
    

WordPress

, 

phpBB

, 

Joomla

 & More
SSL Secure Server
Yes
FTP Users & SubUsers
Unlimited

View full feature list »

Ingredients: Online Store Building Tool, Load-Balanced Architecture, Moo Crew Support, CGI, PHP, Python, Perl, Ruby, MySQL.
30-DAY MONEY-BACK GUARANTEE
Thanks for visiting! Since you landed on this page of our website, we wanted to let you know you visited one of our paid endorsers while researching your purchase.
"I am writing to tell you guys how satisfied I have been as a customer. Your customer service – especially technical support – is remarkably useful and friendly. Please keep up the good work and I'll keep spreading the word!
Tearsa
terukoproductions.com
© Copyright 2011 FatCow Web Hosting. All rights reserved.